DIY Your 4K 8 Channel PoE Camera System
Buy 2 Save 5%, Buy 3 Save 10%
• NVR Package Contains: 1x NVR, 1x 1 meter Ethernet Cable for NVR, 1x Power Supply, 1x 2 meter HDMI Cable, 1x USB Mouse, 1x Quick Start Guide
• Camera Package Contains: 1x Cameras, 1x 60ft Ethernet Cable, 1x Mounting Screw Bag, 1x Mounting Template, 1x Warning Sticker, 1x Quick Start Guide
•How to Apply the Discount: The amount will be automatically deducted after adding to the cart. Up to 40% off.
• Note: If you want a different model of camera, please make a note to specfiy the pcs of each model of camera when placing the order.
Safe Checkout
Description
How To Choose NVR
An 8 Channel NVR supports up to 8 cameras and comes with a pre-installed 2TB hard. The 16 Channel NVR supports up to 16 cameras and comes with a pre-installed 4TB hard Please first choose the NVR channel and then choose the style of cameras.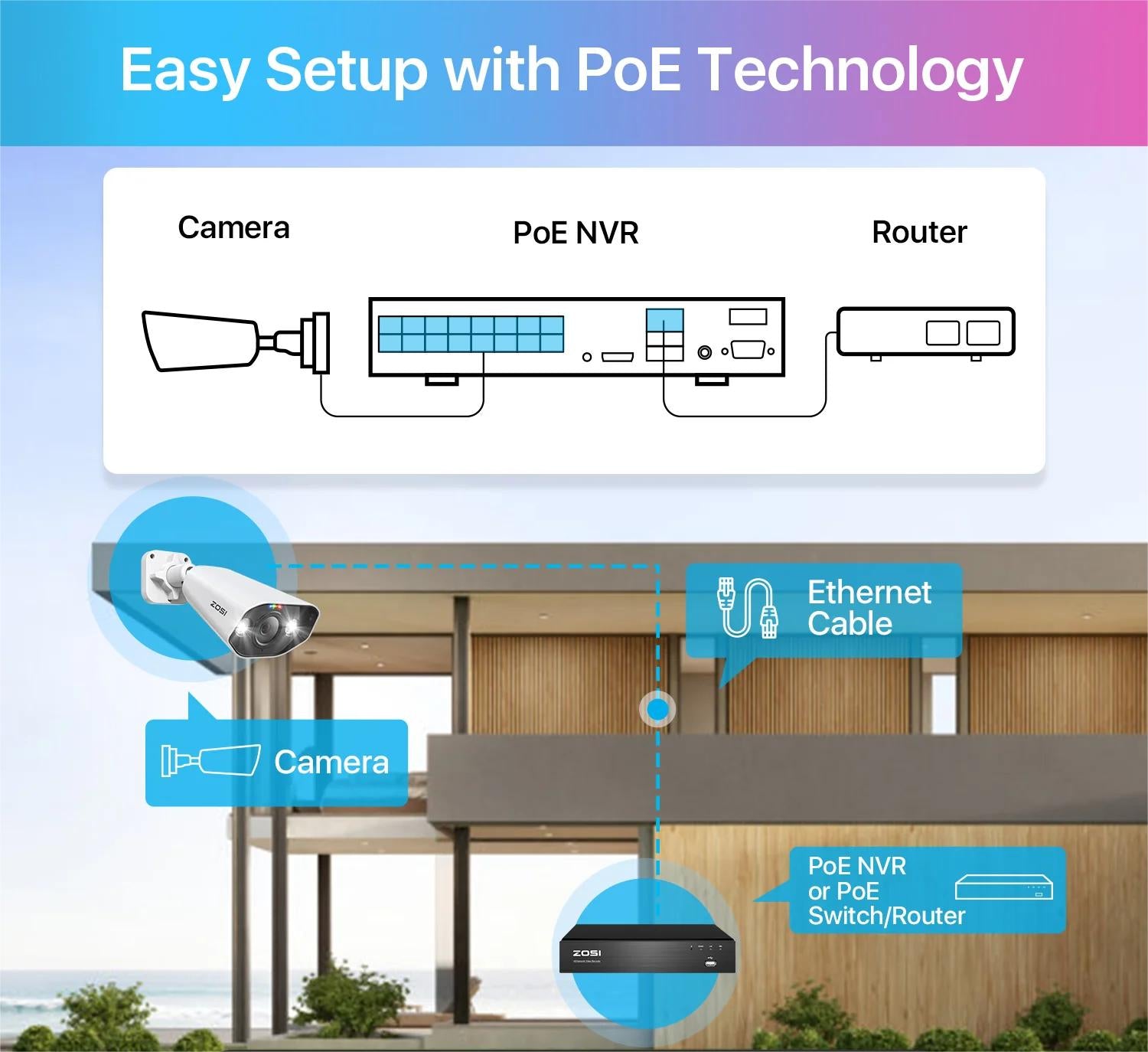 How To Choose Cameras
Advantages of Dome Cameras: Due to its small size and beautiful appearance, the Best Choose for Shops, Restaurants, Casinos, Hotels, and Other Hospitality Industries.
Advantages of Bullet Cameras: Highly Visible, Deterrent to Criminals Dirt-resistant in challenging environments, which are used to good effect in manufacturing, property management, agriculture, and more.
How To Choose Camera Model
C182, C225:
• Smart Person & Vehicle Detection: These PoE cameras identify humans and vehicles from other objects.
• Two-Way Audio: Built-in microphone and speaker allows you to communicate with the people in front of the camera from the Zosi Smart app.
C105:
• One-way Audio:  Built-in mic captures high fidelity audio and provides you with critical evidence.
4K Starlight Night Vision
Thanks to the starlight sensor, this 4K security camera collects enough light for the human face and plate number identification, even more details when human eyes couldn't see anything. It provides clearer night vision in low-light conditions.  
4K UHD Definition
The PoE NVR supports a 4K UHD resolution of 4096*3072, connect your device to a 4K TV or monitor to get an outstanding 4K Ultra HD image.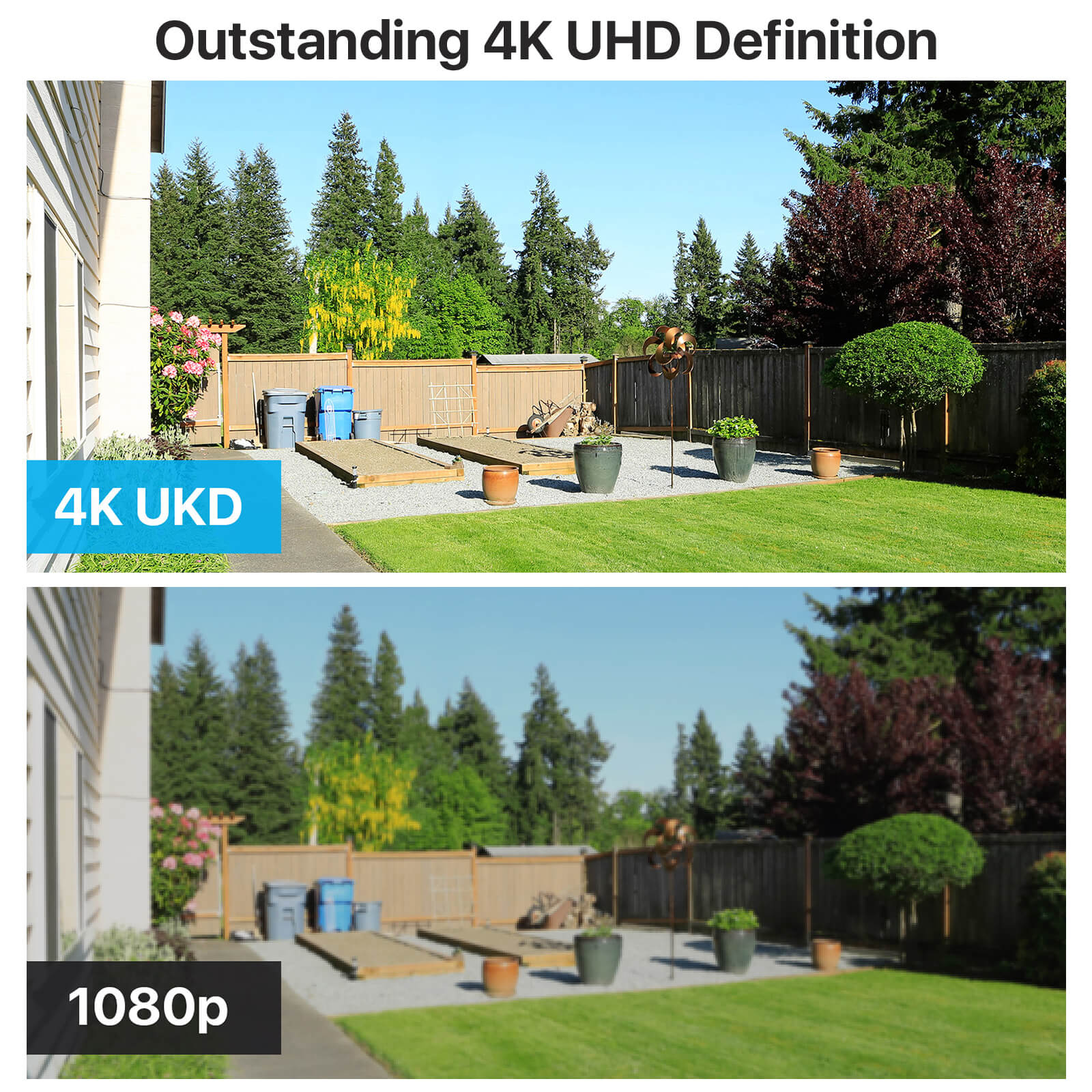 Customized Motion Detection
This NVR offers 4 kinds of recording modes which include recording footage 24/7 continuously, recording during scheduled times, only recording when detecting motion, and recycling recording. You can customize each camera with different recording modes.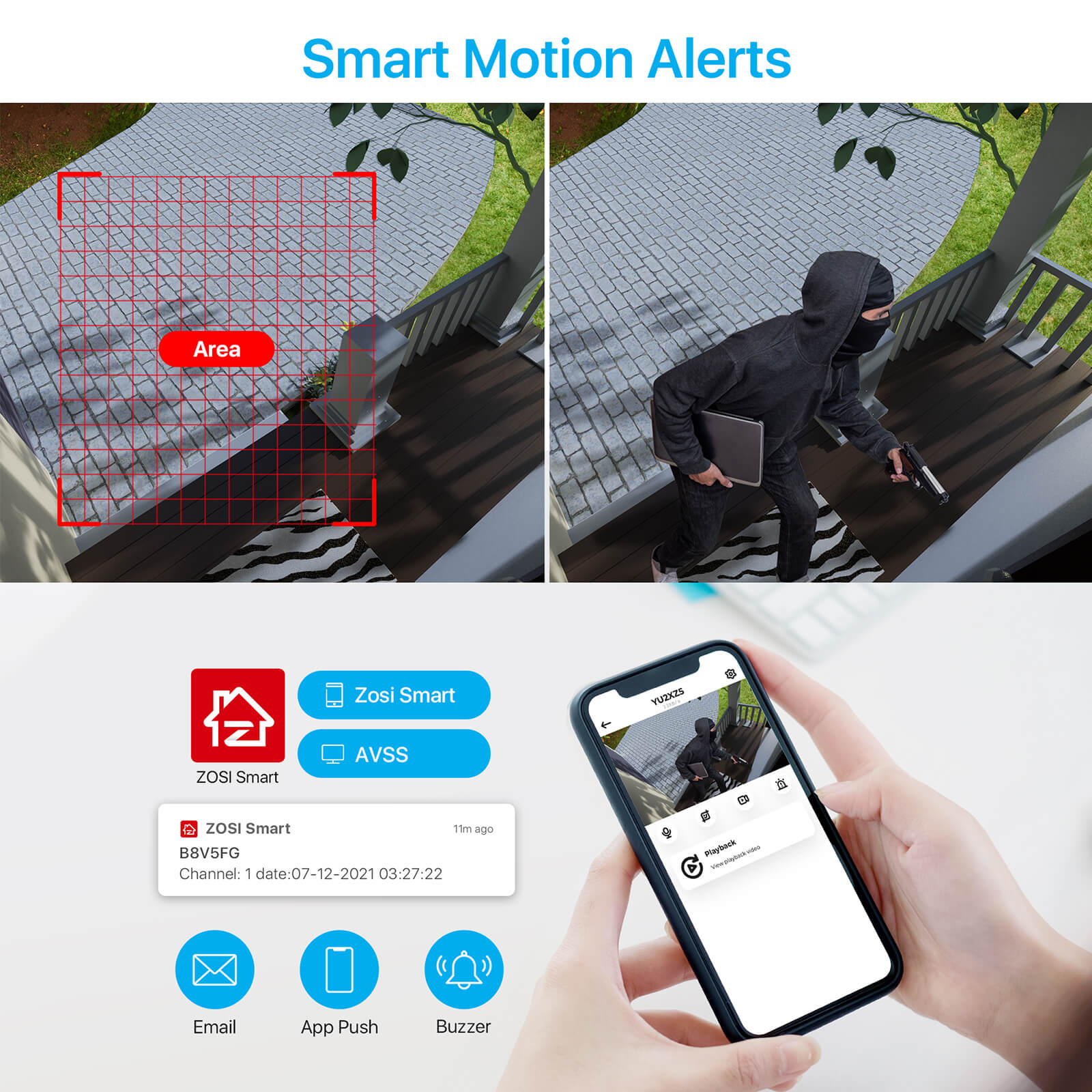 H265+ Video Compression 
Compared with H.264 coding, advanced H.265+ technology saves about 50% bandwidth and records 50% more storage, and provides a longer recording time and a better viewing experience.
24/7 Ceaseless Protection  
Built-in 2TB Hard Drive, this PoE NVR supports 24/7 continuous recording and backup by USB.  The NVR supports a max capacity of 8TB hard drive, and it can be set to automatically overwrite the oldest internally stored footage or you can transfer those video files by USB to a memory stick or external Hard Drive.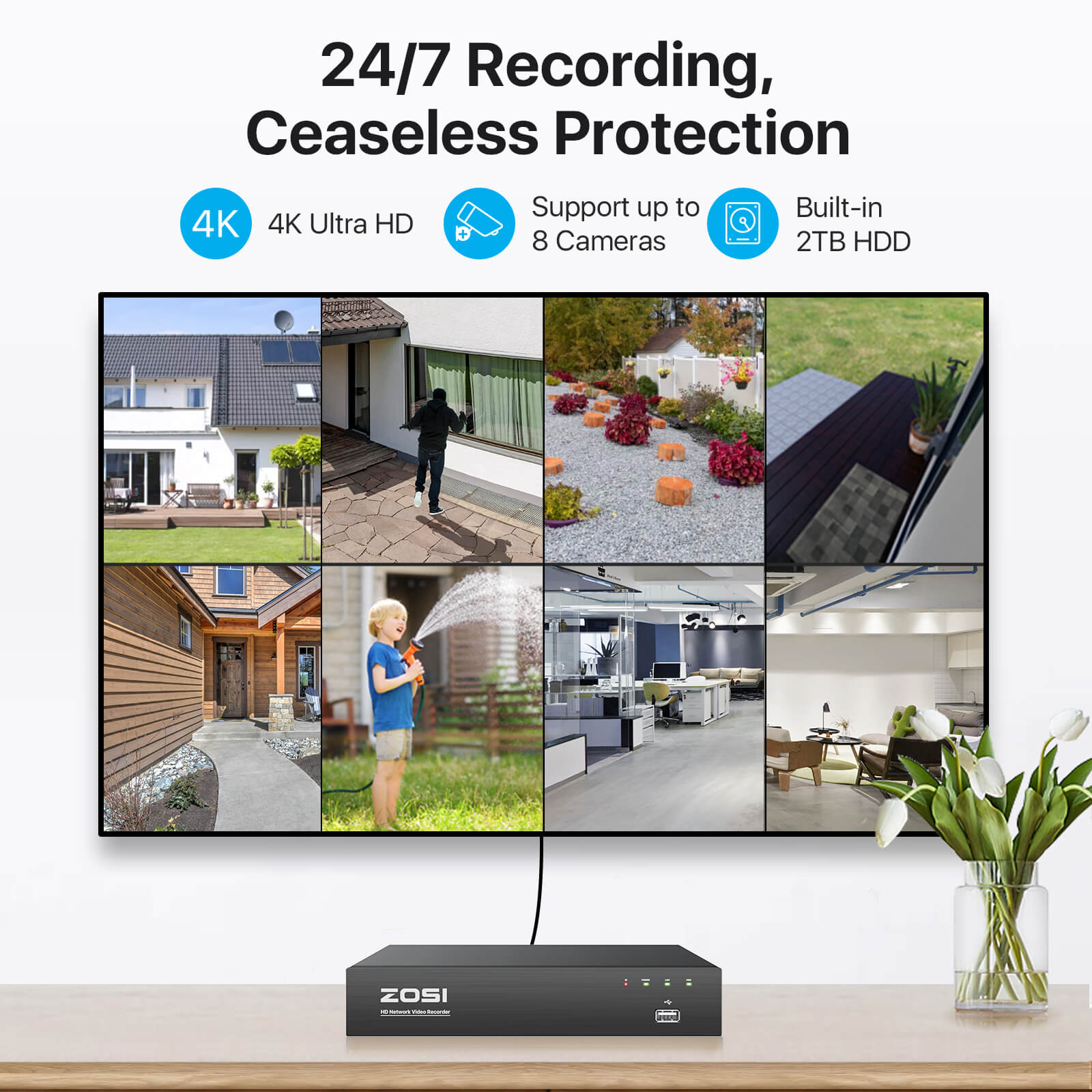 Live View Anywhere Anytime
ZOSI Smart App allows you to see all of your cameras in one place. Check-in on your home or business wherever you have an internet connection. Enjoy live view & Playback on smart devices & PC with Wi-Fi or 2G/3G/4G anywhere anytime.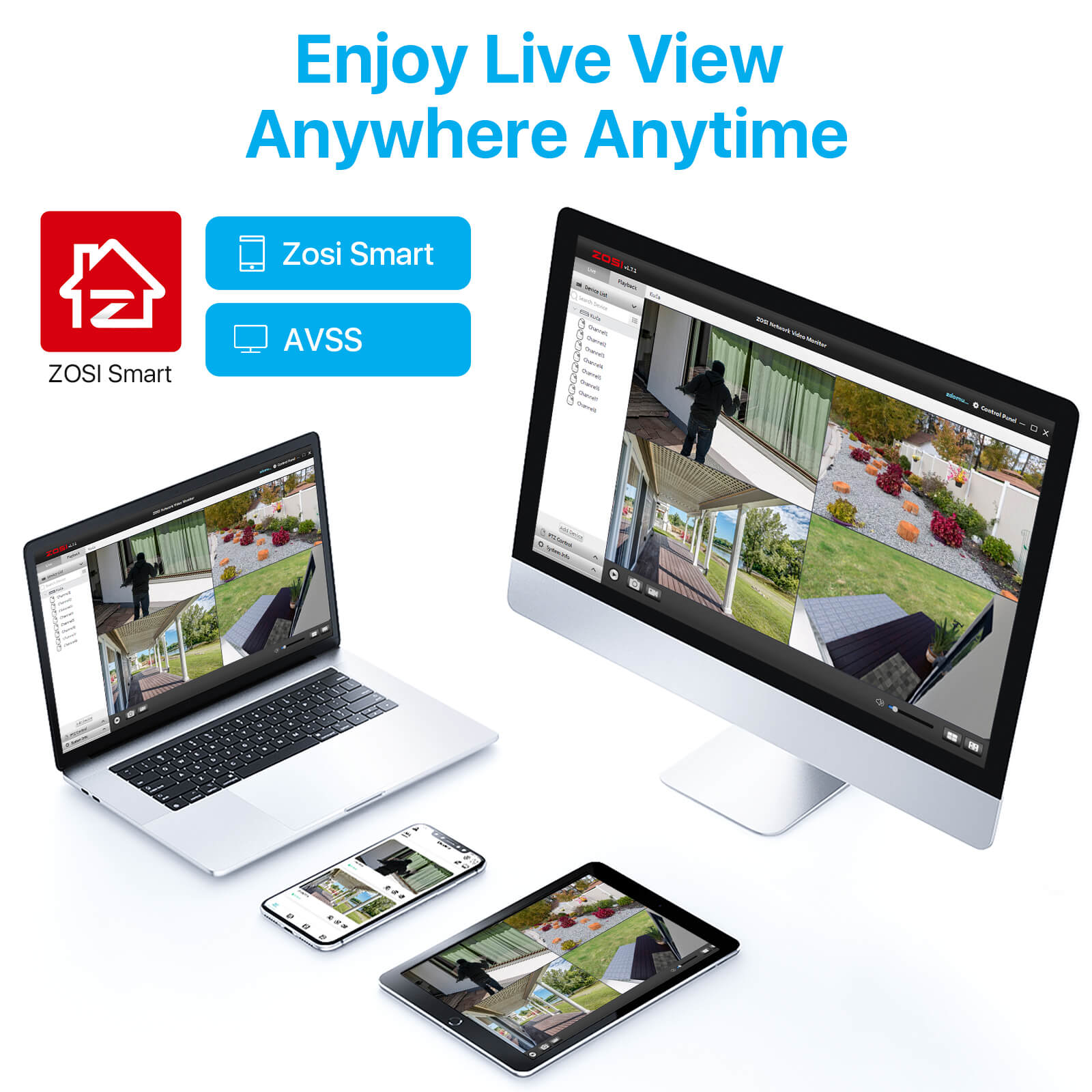 FAQs
How far can a PoE camera be from the NVR?

Which model of camera has the function of human/vehicle detection?

Do these cameras support two-way voice?

Can this PoE NVR work with a PoE switch?

How many PoE cameras can I add to this system?

What is the storage capacity of this nvr system?

Does this NVR system support 24/7 recording?

Do I need a subscription to use the NVR system?

How does the siren and warning light work?
DIY Your 4K 8 Channel PoE Camera System
$289.98