C302 3MP Spotlight WiFi Camera System + Optional 1TB/2TB Hard Drive
•100ft Infrared Night Vision: With 3MP resolution(2304*1296p) which is about 1.5 times clearer than 1080P. Built-in 4pcs Infrared LEDs, the camera provide night vision of up to 100ft even in darkness.
• Easy Wireless Connection: Connect the camera system to a 2.4GHz WiFi network via wireless connection. Pefect choices to eliminates the need for cables around your house. (Power adapter is needed for cameras)
• DIY Alarm System: DIY your own alarm system by cutomizing the light, siren and motion sensitivity in your monitor areas, and receive instant alerts once suspicious object detected.
• Two-Way Audio: With Built-In mic & speaker, you can listen in and talk with your family and visitor on the app at anytime at anywhere. Say goodbye to silent video!
• Free Local Storage : With pre-installed hard drive, users are provided with reliable 24/7 recording. Enjoy free live view and playback of your security system. No monthly fee!
Safe Checkout
Description
Crisp Details in 3MP Clarity
3MP resolution offers 1.5x clarity of 1080P, 4pcs IR LEDs for 100ft night vision even in darkness. And 3D-DNR technology enable to perform more detail, especially in low light conditions.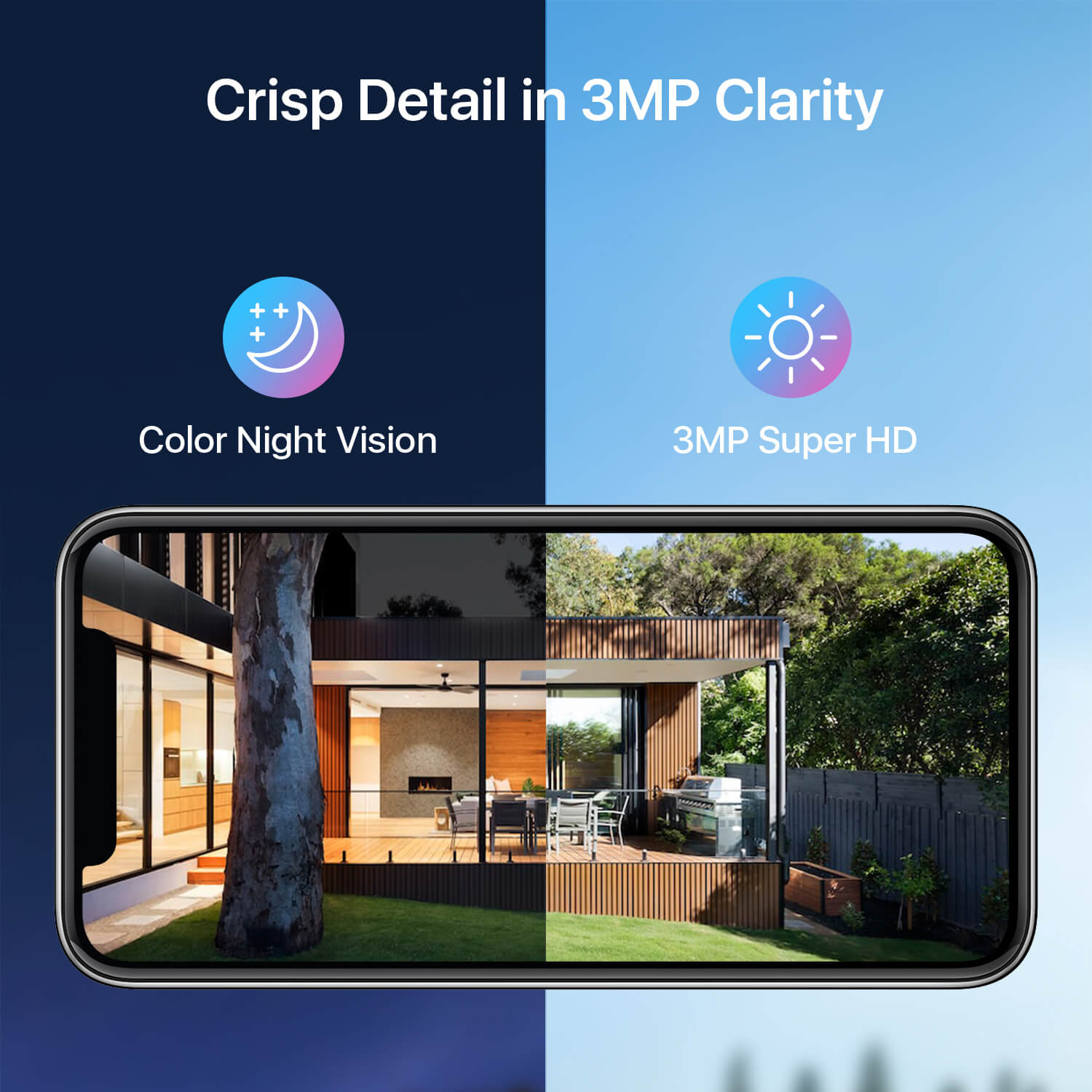 Wired & Wireless Connection
Two ways to connect to the network. You can either connect via Ethernet cable or connect to a 2.4GHz WiFi network. The Ethernet connection allows you to install the NVR away from the router, while the the WiFi  connection eliminates the need for cables around your house. (Power adapter is needed for cameras and NVR)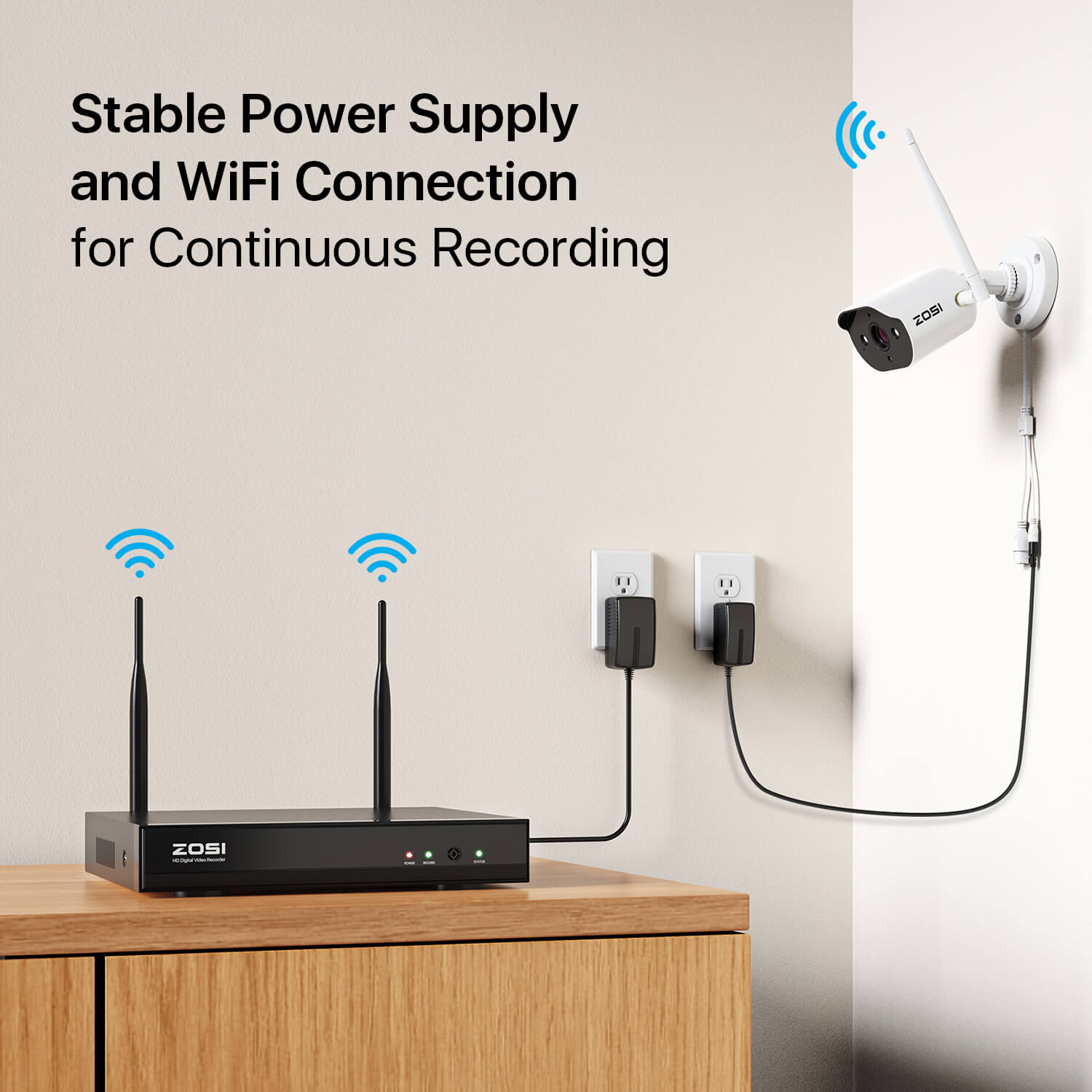 Dual Warning for True Threat
You can setup sound & light alarm both or separately, cutomize the motion sensitivity in your monitor areas,  when camera detect suspicious objected, it will make alarm sound and push alarm notification.        
Notified of Person Detection 
AI human detection minimizes false alarms by distinguishing humans from animals or objects in the monitored area. When an intruder is detected, the system displays a human frame and triggers an instant alert, notifying you promptly.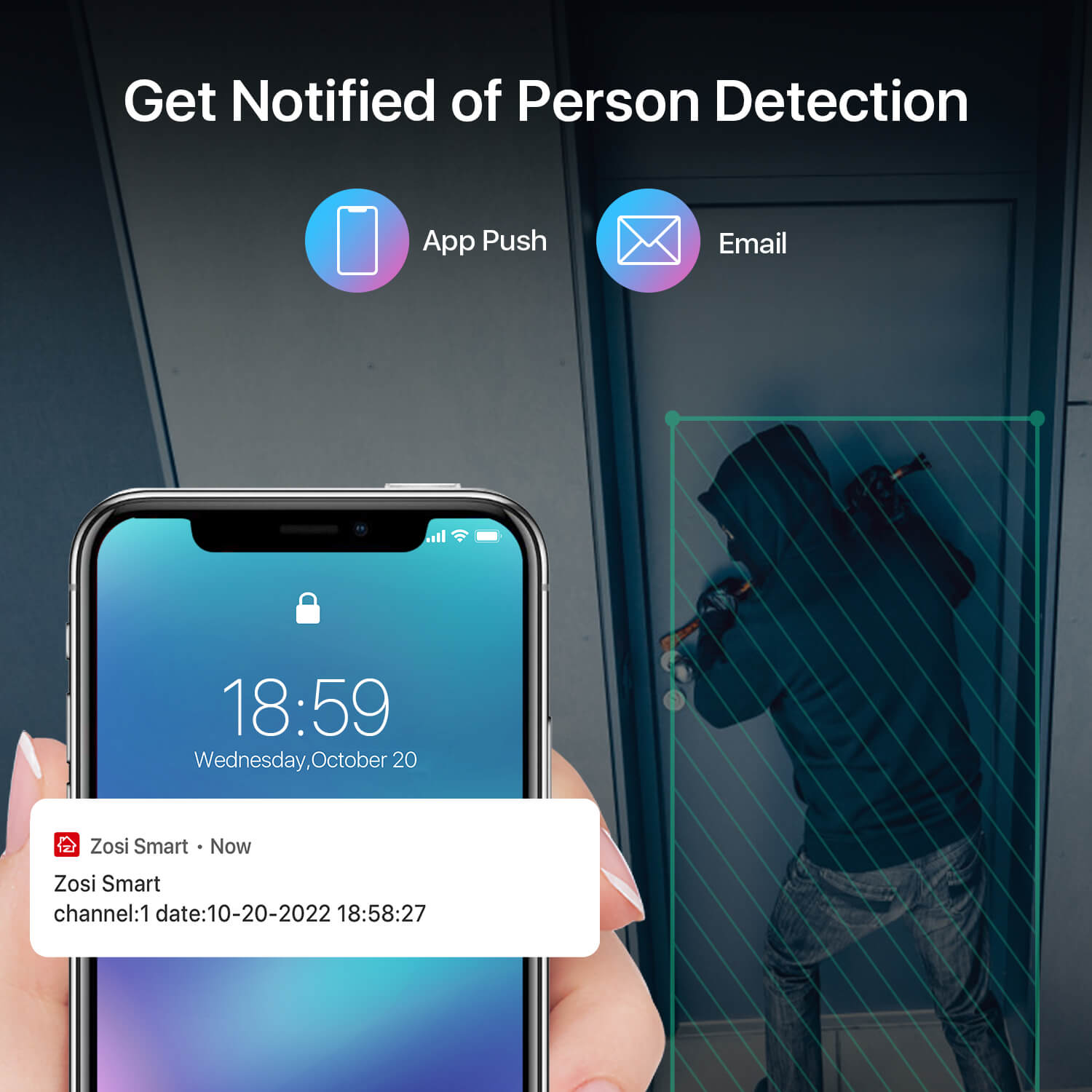 Two Way Audio
Talk, view or listen at will with the free ZOSI Smart app to keep up with what's going on at home or at work. Get easy remote access within seconds.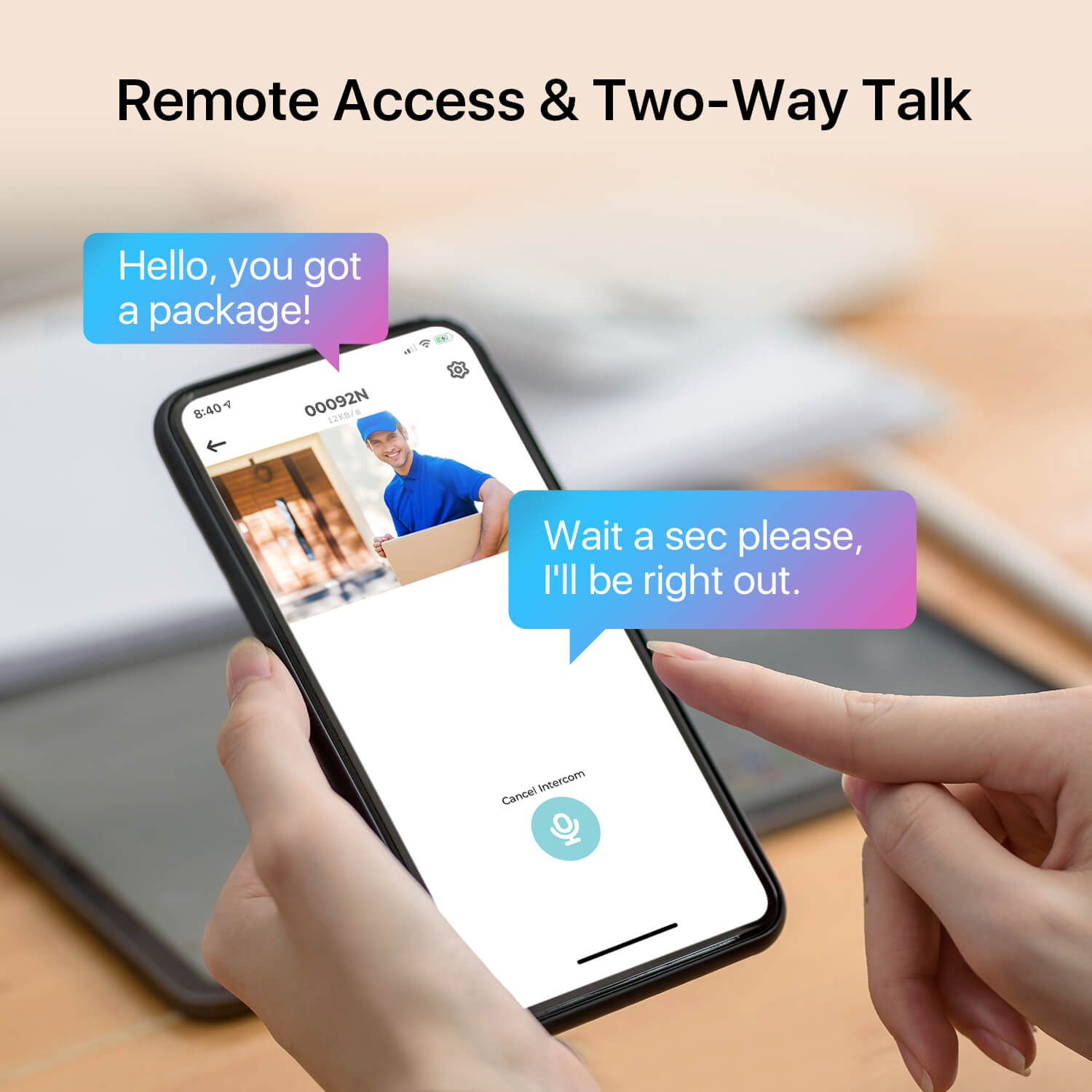 24/7 Video & Audio Recording
With total storage expandable up to 8TB, this complete NVR security system supports 24/7 non-stop recording of up to 8 cameras at the same time. The IP66 Waterproof metal material housing makes it suitable for both indoor and outdoor use.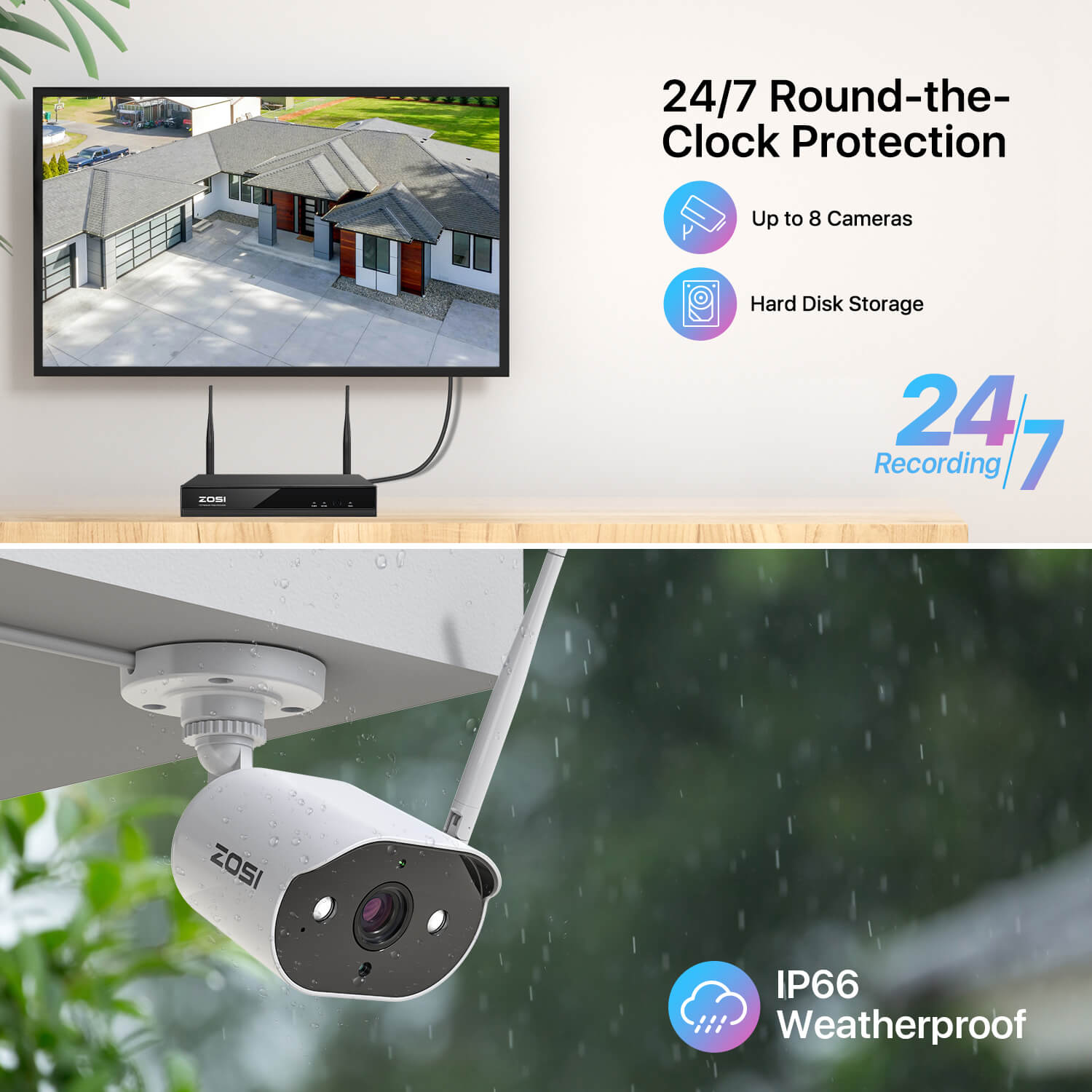 FAQs
Do I need to setup the wifi connection for each camera manually?

Do I need a subscription to use the NVR system?

Does ZOSI C302 support 5GHz WiFi?

Can I view the camera on desktop computers such as TV, PC, and Mac ?

Can I view or control the camera from another location?

Does C302 NVR system allow 24/7 recording?

Does the camera record audio? Can I turn off audio recording?

How does the siren and warning light work?

Can the light activated only, siren activated only, or both activated?

How many cameras can I add to this NVR system?
C302 3MP Spotlight WiFi Camera System + Optional 1TB/2TB Hard Drive
$209.99