5MP WiFi Security Camera System, WiFi HaLow Technology, Base Station Support Max 8 Cameras, C308AH
Shipping & Delivery
3-6 Business Days to Most Areas in the US
Ship from US Warehouse directly (3-6 Business Days to Most Areas in the US)
Ship from China Warehouse (10-14 Business Days to North America area)
Shipping
Order Delivery
All of your orders will be processed within 2 business days.
We will keep you updated tracking information by text messages and emails.
Free 30-Day Returns
ZOSI is to provide our best product and service to you. We offer Free Return within 30 Days from the Original Purchase Date for Refund with or without Reason.
The product must be purchased directly from Zosi website store, you may return your undamaged product and packaging within 30 days of purchase to receive a FULL REFUND for any reason.
Beyond the 30 days, If the reason for return isn't quality-related, or any other damage caused by the unintended use of the product, the customer must pay the return shipping costs as well as the tariffs caused.
You may receive a return label from Zosi RMA technicians after your request is authorized. Just print out the return label and stamp it on the package. Call the shipping carrier to pick up your package.
1-Year Warranty
Learn More
We provide a 1- year limited warranty for customers who have purchased ZOSI products from ZOSI website store store.zositech.com.
This 1-year limited warranty is applied to ZOSI products, including ZOSI DVRs & NVRs, security cameras systems, security cameras, and accessories.
This warranty policy is not applied to the free gifts shipped from ZOSI.
Wi-Fi HaLow Technology
Compared with normal WiFi like 2.4 and 5 GHz, the Wi-Fi HaLow Technology of Sub 1 GHz WiFi features a better obstacle penetration and performs outstandingly on longer-range signals as well as a more stable wifi connection.
Ultra-long-range Transmission
Thanks to the outstanding wifi technology, this base station system is a perfect choice for ultra-long-range wireless solutions, which support a max 3000ft ultra-long transmission distance in an open area. 
5MP Color Night Vision
This wifi camera system comes with three optional modes including infrared night mode, color night vision mode, and smart color night vision mode. When the night falls, you can turn on with white lights for recording in full-color day and night. See more clear and valuable details to identify people and vehicles.
Double Defense against Intruders
Be alert and ready to react to any potential danger via smart light and sound alarm system - triggered by human motion events or controlled manually to keep troubles away. Built-in 2pcs brilliant white lights and high-pitched siren (up to 85dB) offering double insurance.
Respond in Real-Time
The built-in mic and speaker let you stay in touch with your household. Check in with the family or tell your dog to stop barking, or say hello through the ZOSI Smart App.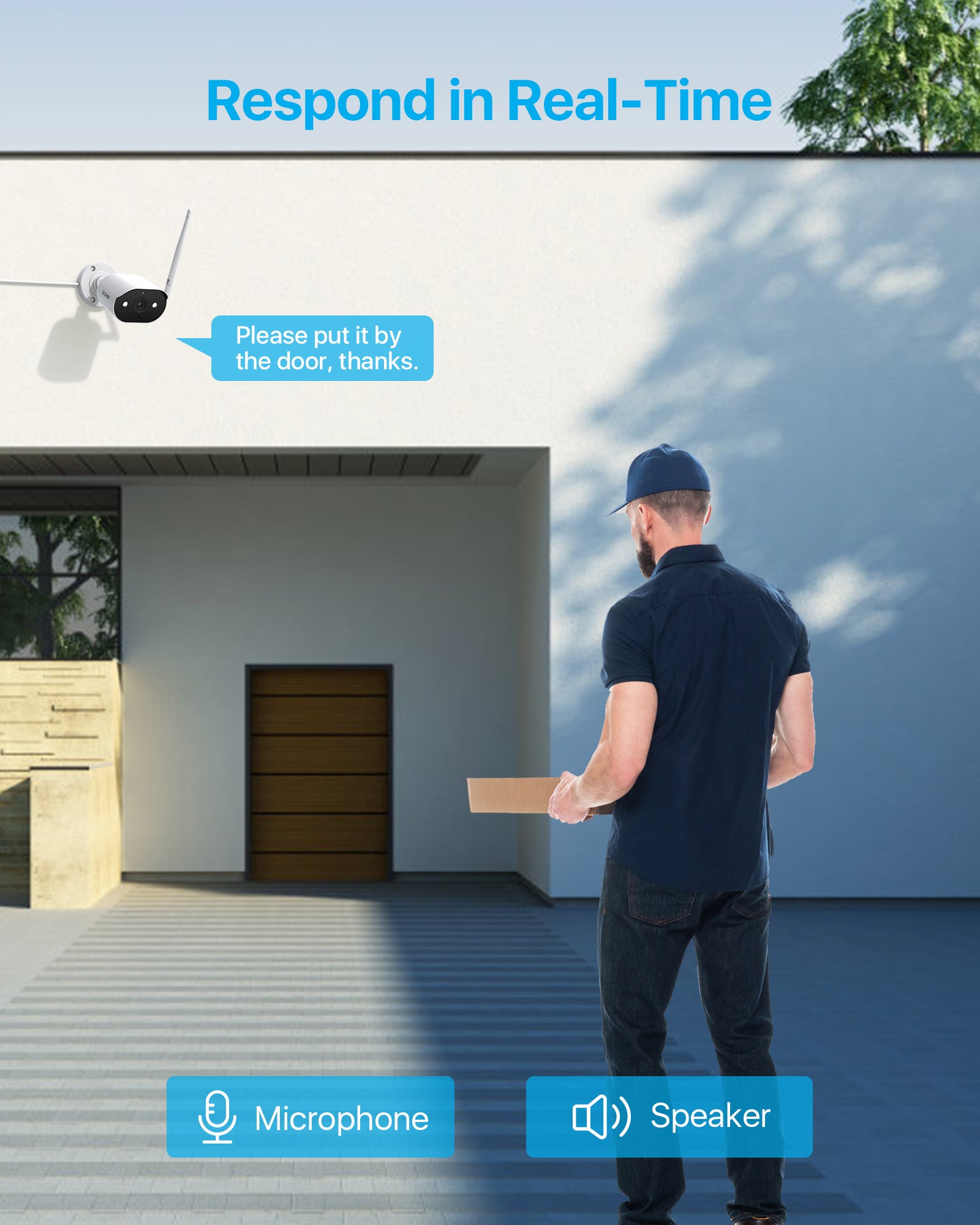 SD Card Storage & Optional Cloud Storage
The cameras support up to 128GB micro SD card for local storage(SD card Not included) and 30-day free trial cloud storage for a new account.
Work with Alexa
Get fast access to your security camera with your voice control. Just use simple voice commands to activate camera features with Alexa.
Support Max 8 Cameras
This is an expandable base station, in which you can add a max of 8pcs of C308ah cameras. Feel easy to follow a few steps to add more cameras to your home security surveillance.