W4 Pro 3MP Whole-Home Mesh WiFi System + 1TB Hard Drive
Buy 2 Save 5%, Buy 3 Save 10%
• 3MP Super HD: See and record precious moments in remarkable clarity.
• Motion Alerts: Alerts you instantly when the cam spots something unusual.
• Quickly Remote Access: You can remote live views and playback by ZOSI smart app.
• Better WiFi Connection: 2.4GHz WiFi make you have stronger & more stable signals.
• Note: The cameras and the NVR require the power connection. They are not Battery Cameras.
Safe Checkout
Description
Upgraded Mesh WiFi System
Boast cascading and wall-penetration algorithm, W4 Pro provides higher performance for long-distance and reliable WiFi connection. So you can feel free to use the cameras to cover your most distant property.
2.4 GHz WiFi

No Messy Cabling

Up to 3000ft WiFi Range (in Open Areas)
Highly Integrated WiFi Chip
Designed for WiFi security system, this WiFi module ensures robust and stable WiFi connectivity. Auto cascading technology offers longer WiFi range and ability to penetrate walls or other barriers.
Auto-Pair, True Plug & Play
Power on the whole system, and all the cameras will pair with NVR automatically via 2.4 GHz WiFi. Easy-to-install plug and play wireless security camera system.
Sharp & Clear in 3MP Super HD
With resolution of 2304x1296 (3 megapixels), plus advanced 3D-DNR technology reduces noise levels, the wireless home security camera system capture clear and smooth videos in subtle details.
Enhanced Night Vision
With 3 megapixels CMOS sensor and 3D-DNR technology, this camera sees and records clear image up to 50ft in the dark.
Detects Humans, Ignores Distractions
Based on advanced AI human detection algorithm, W4 Pro can distinguish people from other motions, and thus effectively reduces "false positives" on trivial objects' movements.
Smart & Active Deterrence
The camera detects human, and activates spotlights and siren alerts to warn off would-be criminals. The most vigilant guard defend your property 24/7.
See, Hear and Talk over the Camera
Without even leaving your seat, you can watch live view from your smartphone, and use two-way audio to respond to guests or warn off the unwanted from anywhere.
H.265+ & AVBR Video Compression
H.265+ plus AVBR video compression algorithm saves more than 70% bandwidth and storage compared with H.264 standard. Enjoy sharper and smoother viewing without latency.
H.265+ & AVBR
H.264
Required Storage Space & Bandwidth
Simple HDD Installation
No need to remove the top cover and connect all the wires, a sliding cover design make it easy to slot the hard drive into your NVR.
② Insert the HDD into NVR
③ Screw the HDD from the back
④ Close the sliding cover
NOTE: This kit has a built-in HDD. If you need to replace it, please select a 3.5-inch hard drive with a thickness of no more than 2cm.
Continuous 24/7 Recording and Playback
With total storage expandable up to 8TB, W4 Pro security camera system supports 24/7 non-stop recording of up to 8 cameras at the same time.
Local and Remote Viewing For local access
Connect the camera system to a monitor or an HD TV.
For remote access
Free ZOSI Smart App on mobile devices.
Free ZOSI AVSS client on PC/Mac.
Zosi Smart

Zosi Smart

AVSS
Use ZOSI Smart App and AVSS Client to Access Cameras
More Accurate Person Recognition
AI-based system distinguishes people from other distractions, thus, you will only get notified about things that matter - not bombarded with false notifications.
IP66 Weatherproof

Vandalproof Exterior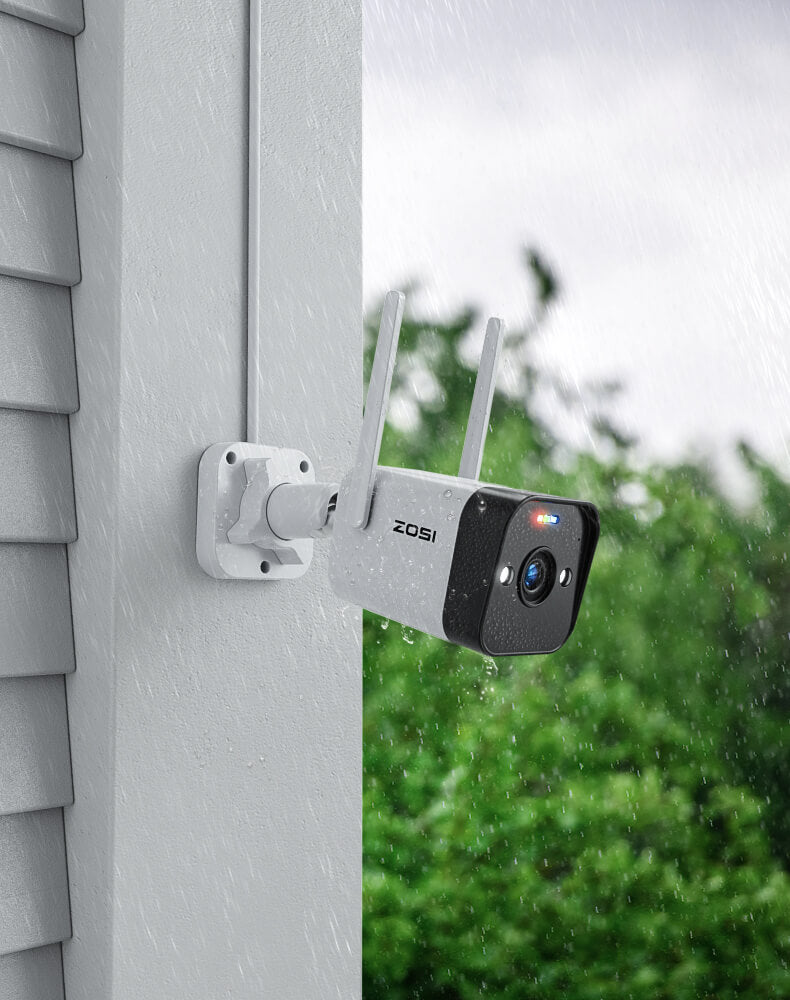 FAQs
How does Mesh network work in W4 Pro NVR system?

Do I need to buy a Mesh WiFi router to use this NVR system?

Do I need to setup the wifi connection for each camera manually?

Do I need a subscription to use the NVR system?

Does ZOSI W4 Pro support 5GHz WiFi?

Can I view the camera on desktop computers such as TV, PC, and Mac ?

Can I view or control the camera from another location?

Does W4 Pro NVR system allow 24/7 recording?

Does the camera record audio? Can I turn off audio recording?

How does the siren and warning light work?

Can the light activated only, siren activated only, or both activated?

How many cameras can I add to this NVR system?
W4 Pro 3MP Whole-Home Mesh WiFi System + 1TB Hard Drive
$289.99